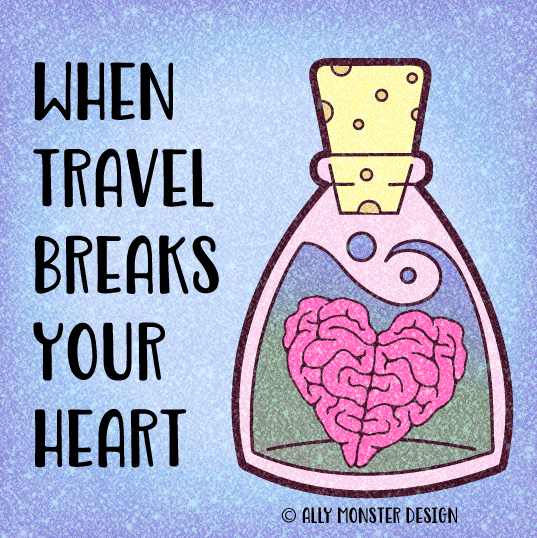 When travel breaks your heart
I heard that you can suffer a broken heart when you travel, though not in the traditional sense. This type of heartbreak is how you feel when leaving somewhere you've fallen head over heels in love with.
Originally from the UK, my husband Kyle and I have been travelling Australia for 7 months now. Having hopped quite quickly through 5 regions, 3 states and 14 different accommodations, it was hard not to feel like we were leaving a part of ourselves behind when moving on. There was one particular place however, that stole our hearts and never returned them - our secret hideaway shed in Mullumbimby, Byron Bay. The fond memories of our 6 week stay in this shed are the inspiration for the design of my upcoming Childrenswear range. I'd like to share my story with you about the magical place that broke my heart but is inspiring something special.
Mullumbimby is a small town in the hinterland, 30 minutes drive from the centre of Byron Bay. We stayed there for free with an eco-conscious couple in exchange for a few hours of gardening per day. Their house was on top of a quiet hill, and had a wonderful organic garden teeming with fruit and vegetables. Surrounded by 60 acres of land, grazing cows and panoramic views of the valley below, it felt like a secret hideaway up in the clouds. We lived in a large shed in the couples' garden that was painted in rainbow colours and kitted out with mismatched furniture, kitchen appliances and quirky decorations. It was also home to many huntsmen spiders, lizards and a python that fortunately remained unseen apart from a shedded skin. One side of the shed was able to be opened completely, so you always felt at one with nature even if you were sitting on the sofa. The shed was very rustic, open to the elements, had no shower and a DIY compost bucket for a toilet. However, it did have a tremendous amount of character and unforgettable magic about it. Once we arrived, we fell in love straight away.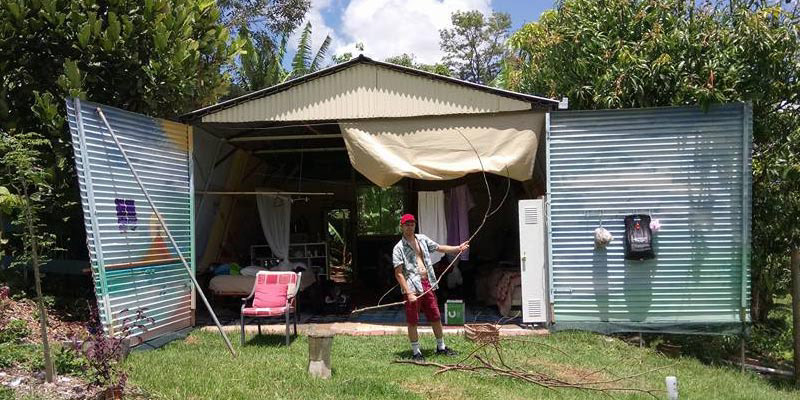 Our stay in the secret shed is where travel really kicked in for me and everything started to feel incredibly exciting.  I bounced out of bed every morning, thrilled by the fact it was a new day and I got to spend it there and do anything I wanted. I learned how to live mindfully without over-planning my time and how to find joy in doing very little. I never slept in or lounged in bed like I used to do back home, there was a whole world outside for me to explore. I learned a lot about myself during my time here, discovering what I wanted from both travel and life itself. It was here that I found the strength to quit my job without a backup plan, putting a stop to things that were making me deeply unhappy. I also started planning the launch of my own business, Ally Monster Design. During my stay, I felt a happiness and serenity that I hadn't felt in a long time.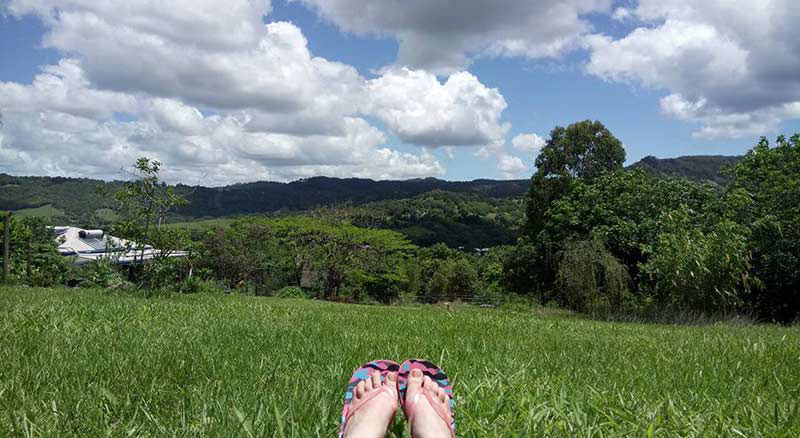 We shared our space with many creatures and became fond of all of them, even the
8-legged kind. The cows would start to graze in the field next to us during the day, slowly making their way down the hill. I think Australian cows look like the character from the Laughing Cow cheese advert. Their faces are so pretty and mischievous. We would say hello to the cows every day and feed Bella, who we named Grandma of the herd. The prettiest cow was the one we called "The Naughty Cow". She had beautiful long eyelashes, slender legs and a "butter wouldn't melt" expression on her face. She earned her nickname as she would always break into our garden, eat the grass and get chased out by our host waving a broom. This didn't seem to bother her as would return on a daily basis, trampling the fence and even managing to cross the cattle grid. Of all the grass in 60 acres, she wanted this particular patch. I admired her rebellious attitude.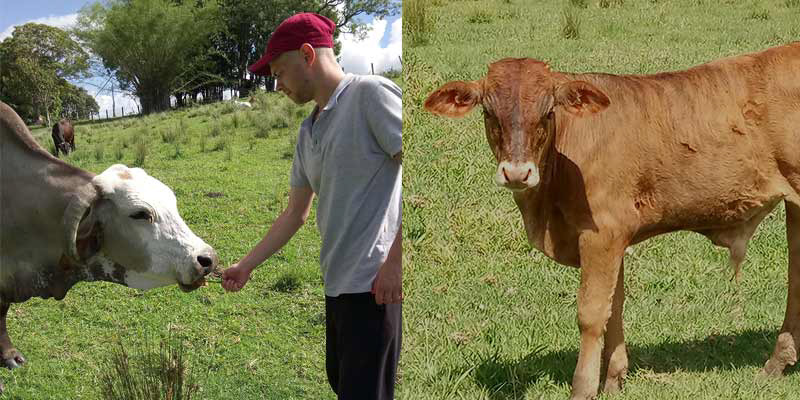 It was at dusk when the real fun and games started. Every evening at sunset I would take a chair outside to watch "the bat show". Hundreds of fruit bats would decorate the pink sky. It looked rather macabre, like nothing I've ever seen in my life. Once darkness began to fall,  bats would descend to the fruit trees in our garden. Far from shy, they would swoop so close to my face I could hear their giant wings flapping. They had gorgeous furry faces and big ears. Not once did I get a full night's sleep in the shed. This was due to the fruit bats feasting in the trees above it, squeaking excitedly while dropping mangoes on the metal roof. Once the bats had arrived, it was time for the marsh frogs to wake up and start chattering. The noise they made sounded like a giant pan full of popcorn popping for hours on end. Some of them would bark like dogs, especially if it was raining.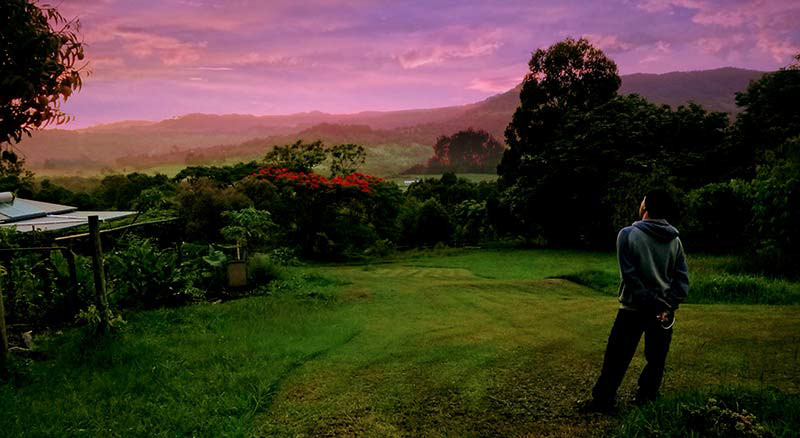 I'm designing my childrenswear range in memory of my Mum who passed away in 2014. She always told me I would be good at designing childrens' clothing ever since I was at college. However, as I experimented with my career I pursued other avenues. I got stuck in jobs I didn't like, saying it was for the money or to gain experience. Really, it was because I lacked confidence in myself. I always felt like Mum was somewhat disappointed that I hadn't followed her suggestion. Sometimes it takes a while for you to find your calling and grab it with both hands, but too late to share it with those you love. I'm going to put everything I have into this and make it something my Mum would have been proud of.