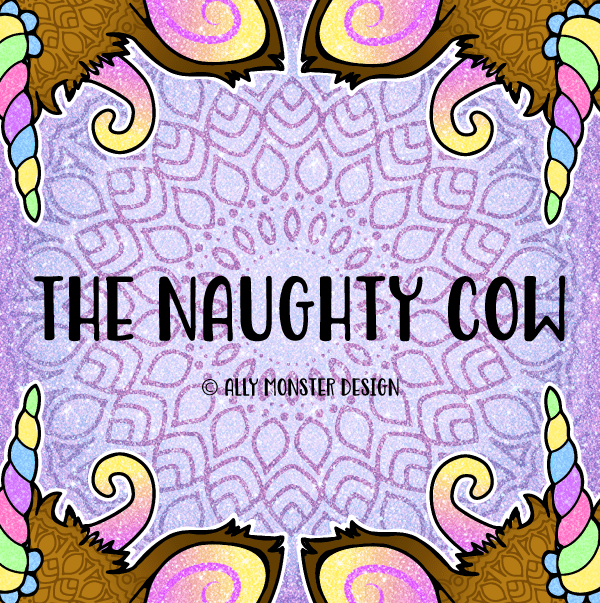 I've started getting some designs down for my childrenswear range! The theme is based around a special place I visited while travelling Australia with my husband, and it is dedicated to my late Mum. You can read more about it in the blog post below this one,

When Travel Breaks Your Heart

. In this blog post, I'm going to introduce you to one of my characters who will be making an appearance in my childrenswear range.
Among all aspects of design, I love designing characters the most. I don't see myself as a cartoonist as such, more a character designer. I like that fact that when I create characters, they don't have to look a certain way because they are not real. it really puts my imagination to the test, which I love. While some of my characters magically appear from the tip of my pen, others are inspired by real people, animals, feelings or even experiences. The character I'm going to introduce to you today, is based upon a special animal who lived near our secret hideaway shed in Mullumbimby, Australia.
Our shed was situated on top of a hill within in a beautiful garden and fruit orchard, fenced off and surrounded by 60 acres of land. Our hosts were the land owners and they rented the land out to a farmer to keep his herd of cows. We sometimes worked in the fields picking fireweed, which is poisonous to cows. We rather liked this job even though it was strenuous in the heat. It was nice to know that we were not only helping our hosts by picking fireweed, we were also helping the cows. While working in the fields we were treated to spectacular views of the valley and from 8am each day, skydivers peppered the horizon with their tiny orange parachutes. I absolutely LOVED that, I would put myself in the mind of each skydiver I saw and it made me feel so giddy and excited. 
​​​​​​​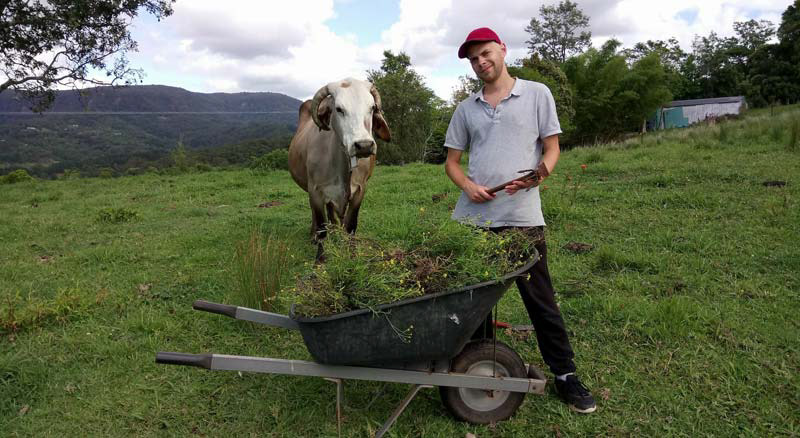 The herd were cautious, but not frightened of us. There were many calves who would run away from us, hiding behind eachother or peering out from behind their mothers legs, which was cute. As weeks passed, we began to recognise individual cows and the family groupings. There was one particular cow who stuck out from the rest. It was a boy (I think?!), perhaps a "teenage" calf and had the personality to match. He was very handsome and looked like a giant dog. He wouldn't run away from us, but would stare dreamily with his big brown eyes and long eyelashes. There was a certain cheekiness to him aswell, with his little devil horns and long swishy tail. We named him the Naughty Cow.
More than a handful of times, we would wake up to find the Naughty Cow outside our shed in the host's garden, casually eating the grass and hanging out as if he owned the place. We could sometimes hear our host telling the cow off like a child, "You KNOW you're not supposed to be in here! Go! Go on!". The cow would almost roll his eyes as if to say "oh, it's you again..", staying firm until he was chased out by the owner with a broom. In an attempt to keep the cow out, the owner fixed the fence and shut the gate. The next day, the cow would trample the fence, squeeze through the gate and waltz into the garden without a care in the world. Once the fence was fixed a second time, the Naughty Cow would still end up in the garden by crossing the cattle grid at the entrance to the house. He was my favourite one out of the herd because he was a bit of a punk. He didn't seem to rely on the others, belong to a group or follow the rest. He was cool and handsome, and he stood out. He was rebellious, ballsy and creative about getting to where he wanted to be, no matter what or who was in his way.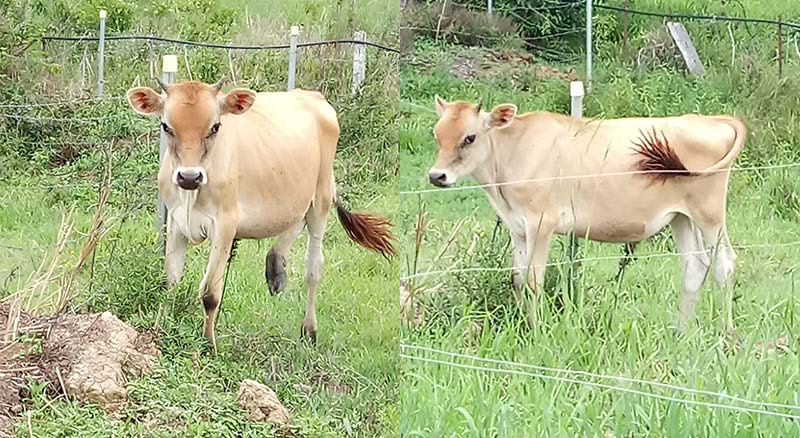 One of the reasons I valued our stay in Mullumbimby is because it was here that I really evaluated my life and thought about where I wanted it to go. Like the Naughty Cow, there were things stopping me from getting to the grass that was greener on the other side. I admired the Naughty Cow's attitude and confidence, and knew he HAD to be a character in my childrenswear range. What a role model! I have developed the naughty cow into a gender neutral mythical creature, to be able to appeal to boys and girls. He represents ambition, courage and self-esteem, something all children should have <3